A source of beer knowledge, special beers and warm hospitality. That's how a visit to Huub van Dijk can be summarized. Huub is the brewer of multiple prize winner 'saison Wittekop', a phenomenal beer with which he won the Brussels Beer Challenge and the Dutch Beer Challenge. He is also an award-winning zythologist and collector of just about anything that has to do with beer. To combine the useful with the pleasant, we went to visit Huub with the BeerNDX team.
Time for the interview!
"Sorry for the mess men, but we have just returned from 2 days in Antwerp and have not had much time to clean up." Once we started talking about Antwerp and its bars, the conversation really takes off. "Do you know where you should go? Café Mombasa in Borgerhout; very nice beers that you can't drink anywhere else. Also very hospitable, highly recommended. " While we are being served a 'Wittekop', he picks up a number of folders. In these folders – described in detail – are the places in the Netherlands and Belgium which true beerlovers must visit. Quite an undertaking, while browsing through the scriptures.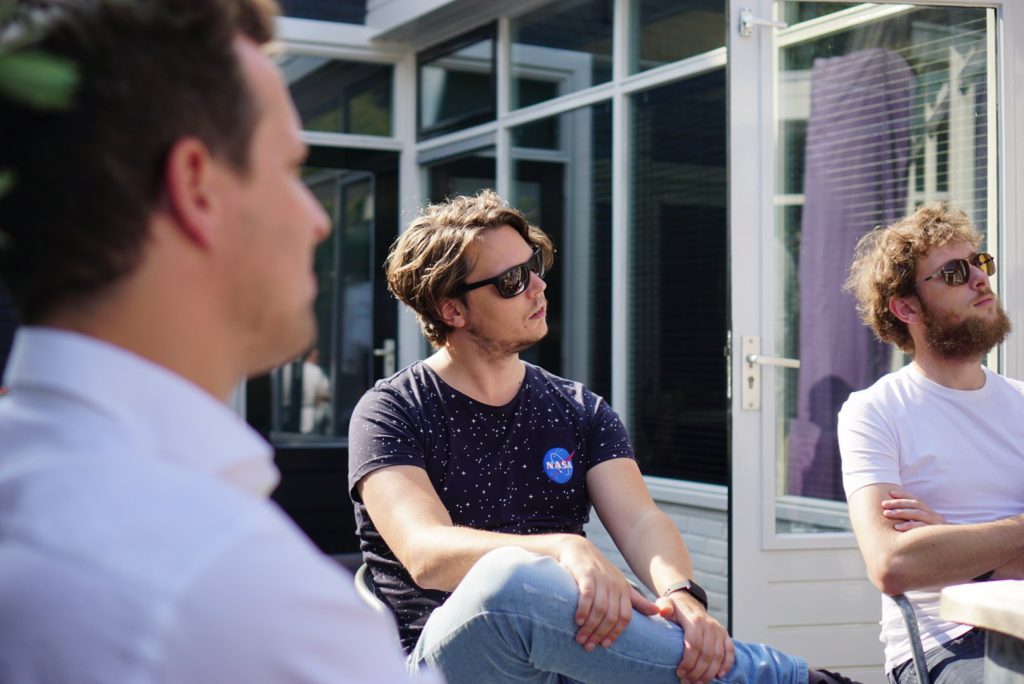 While we talk about the visit to Antwerp and the collection of beers, related beer items are discussed as well. Clearly it is not only beer that he collects, we notice that when he shows us the rooms upstairs. "I think I have about 80 beer neon signs and they all still work." he hasn't exaggerated one bit, especially by showing us the neon sign of Sint Sixtus (!). There are even 2 rooms and cupboards in the corridor that are filled with enamel signs from breweries that no longer exist or at least have adopted a clearly different house style.
Pretty impressive Huub, I am very curious about the beers in your collection, how many bottles do you think you have?
There was a long pause, after which he answered: "I don't dare to estimate, I think somewhere between 500 and 600." A very modest estimate, I can tell you.
When did you start collecting beer?
The real collection must have started somewhere in 2009. At least, most of my beers are from that time. I certainly have older beers in my collection, but I often bought them later. How do I get them? I have been in the beer world for quite some time now, and after a while you will get to know a lot of people in there. As a result, I have nice beers that sometimes even the brewer himself no longer has.
Can you name such a showpiece?
For example, I still have a closed box with 12 'Cuvée van de Keizer Blauw' from 1999. The beer will be over its top by now, but it is really special to have. I don't believe there are many of them around in this condition.
Where do you purchase your beer?
I particularly like the traditional beer culture and that is why I like to visit Belgian stores a lot. You will almost always find special items, especially at smaller stores in unknown places. I can recommend it to anyone who visits Belgian. Oh wait, on second thought, rather not. Otherwise the specials are gone before I can get there, haha.
And when you have found a nice beer, with whom do you prefer to taste it?
That's easy, with Mieke Desplenter from Ter Dolen and Hildegard van Ostaden from the Leyerth. These ladies have meant a lot to the beer world and they are also very knowledgeable.
Any tips for the starting collector?
Make sure you have a good environment to store the beer. Beer should not have too much light and it should not be too hot. But the most important tip: "Don't forget to drink!"